Electronics & Comm. Engineering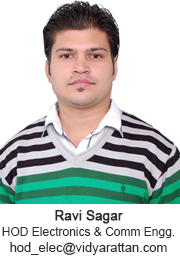 The Electronics & Communication Department is being run by a group of experienced and dedicated faculty members with a balanced mix from industry and academics. The department laboratories are equipped with modern state of art equipment and test equipment and the latest simulation software.
The thrust area is to make the students practically oriented, to enable them to handle the real life technical problems in future with confidence. To this end, students from second year onwards are encouraged to work on their own electronic projects, the infrastructure, test equipment and guidance from faculties being provided by the Institute. This helps confidence building of the students. The department also runs Value Added courses, where students from second year onwards are being taught on various simulation software, Personality Development, Electronics projects etc. This assists in holistic development of student as an individual.